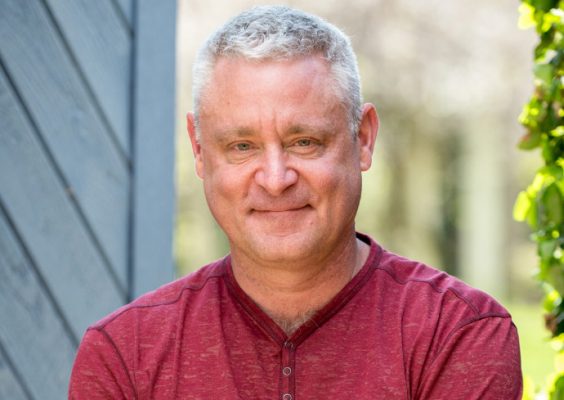 The philanthropy that enables students to succeed in STEM
[ad_1]
When Ed Mitzen '88 graduated from Syracuse University, he could never have imagined that he would one day own a multi-million dollar business and employ hundreds of people. But the man who dreams big – and realizes those dreams – has never forgotten his humble roots either. Perhaps that is why his company's philosophy is to level the playing field, a philosophy that also guides his philanthropy, including a recent million dollar donation to Syracuse University as part of of the Forever Orange campaign.
Mitzen started Fingerpaint in 2008, his third successful marketing / advertising business. As described on his website, Fingerpaint's "people first" philosophy attracts the best talents and gives them space to flourish. Our strict structure with no titles, no offices, no egos creates an environment where collaboration and creativity occur naturally. These level playing fields allow us to learn more from each other, better integrate our departments and teams, and ultimately create work that solves our clients' most complex marketing challenges.
Providing opportunities at Syracuse University for talented students and creating an environment where they can thrive and succeed inspired Mitzen's latest gift to strengthen the SUSTAIN program at the College of Arts and Sciences. Launched in 2017 with funding from the National Science Foundation (NSF), the A&S SUSTAIN (STEM Talent Acceleration Strategic Initiative) offers scholarships and academic support as well as work and social experiences to attract and retain students from under-represented groups in science and mathematics (STEM).
"SUSTAIN provides an opportunity and a proven path to success for students who could not afford to attend Syracuse University," says Mitzen. "First, it provides them with the financial support they need. But it goes much further by giving them the mentorship, guidance, and confidence to develop their passions, understand their worth, and have experiences outside of the classroom that prepare them for success after graduation.
The point is that all over the country almost half of STEM majors drop out of their study program before completion. The retention rates of populations under-represented in STEM are around 30%. The SUSTAIN program changes this trajectory, with 75% of students continuing their studies in STEM and a retention rate of around 90%.
"Students from low-income households and from low-income high schools are particularly at risk of leaving STEM fields," says John W. Tillotson, associate professor and chair, Department of Science Education, College of arts and sciences, and principal investigator for the NSF-funded initiative. "They often suffer from what's called impostor syndrome, feeling like they're not talented enough to compete with their more prepared peers. SUSTAIN is leveling the playing field, providing them with all the facets of the support they need to help them recognize their abilities and gain the confidence they need to succeed.
"Having a faculty mentor is essential," says Dean Karin Ruhlandt of the College of Arts and Sciences, who recalls her own difficult experiences as a first generation student. "I didn't have any role models. What we have found is that it is essential to have mentors and to build community among other students. We are also exploring different learning strategies – these are all factors that contribute to good results for our SUSTAIN Fellows. "
Mitzen says his appreciation of the opportunity gap has evolved over time. Her father died suddenly shortly before entering college. "If it hadn't been for scholarships and loans, I wouldn't have been able to go to school," he says. "When I joined the Dean's Advisory Council for the College of Arts and Sciences, I realized how many talented kids there were in college just because they had financial support. It became really important for me to encourage these students with limited means to pursue opportunities that would create a better life for them and their families.
Mitzen believes the SUSTAIN program will result in a more diverse pool of graduates who can bring their distinct talents, voices and ideas to businesses and organizations. Mitzen takes the same approach in the corporate world. In his book "More Than Numbers: The Power of Empathy and Philanthropy in Driving Advertising Agency Performance," Mitzen says that employees who are given the tools and resources they need to succeed. feeling empowered are essential to a "winning corporate culture".
"As my career progressed, I realized that I am happiest when I am able to give back," Mitzen told Authority Magazine. in an interview last year. "I'm so grateful to be able to do this and that's why I've made philanthropy part of my corporate culture. Each year, we donate our time, talent and treasure to a number of worthy nonprofits and causes. "
Mitzen recently launched a new family charitable foundation called Business for good share resources, strategies and links with companies seeking to improve lives and shape communities "to help as many people as possible, to do as much good as possible".
Mitzen's constant desire to uplift others and make a difference in their lives ensures a bright future for Syracuse University's SUSTAIN program and its promising researchers.
"Ed's donation will cement the legacy of the SUSTAIN program going forward," says Tillotson. "Long after our National Science Foundation grant ends, we will be able to help highly talented students overcome the educational barriers they deserve. "
About Syracuse University
Syracuse University is a private research university that advances knowledge in all disciplines to foster ground-breaking discoveries and cutting-edge leadership. Our collection of 13 schools and colleges with over 200 customizable majors bridges the gap between education and action, so students can take on the world. In and beyond the classroom, we connect people, perspectives and practices to solve interconnected challenges with interdisciplinary approaches. Together, we are a powerful community that moves ideas, people and impact beyond what is possible.
About Forever Orange
Orange is not just our color. It's our promise to make the world a better place than we found it. Forever Orange: The campaign for Syracuse University is ready to do just that. Fueled by 150 years of intrepid firsts, together we can enhance academic excellence, transform the student experience, and expand unique opportunities for learning and growth. Forever Orange is working to raise $ 1.5 billion in philanthropic support, inspire 125,000 individual donors to participate in the campaign and actively involve one in five alumni in the life of the University. Now is the time to show the world what Orange can do. Visit syracuse.edu/foreverorange to learn more.
[ad_2]