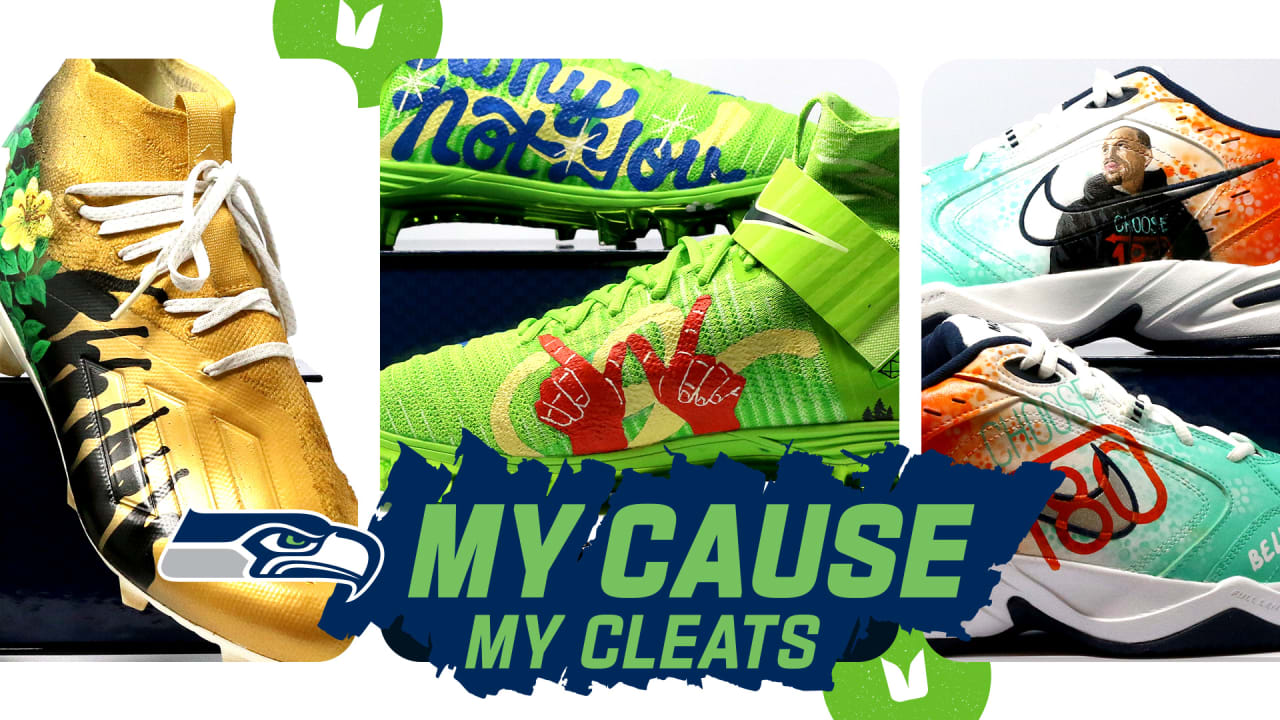 Seahawks unveil My Cause My Cleats in 2021
About the artists
Sean Vergara – Creator of Cody Barton, Nick Bellore, Will Dissly, Sidney Jones IV and Walter Jones' Shoes
Vergara is a Seattle-based visual artist with a strong focus on painting, drawing, illustration, and design. He uses his background in sports and the arts to merge visual cues from various cultural sources, such as photography, fashion, architecture and design, to create pieces that tell unique visual stories.
Marcus "Cus" Williams – Designer Chris Carson, LJ Collier, Alex Collins, DeeJay Dallas, Carlos Dunlap, Gerald Everett, Poona Ford, Stone Forsythe, Kyle Fuller, Penny Hart, Gabe Jackson, Damien Lewis, Bryan Mone, Colby Parkinson, DJ Reed, Alton Robinson, Brandon Shell, Geno Smith, Freddie Swain, Darrell Taylor, Al Woods and John Schneider's shoes
Williams is a self-taught artist born and raised in Seattle. Inspired by vivid colors, character designs and graffiti, he has worked as a freelance artist for almost 12 years, six of them with the Seahawks for the My Cause My Cleats campaign. Over the years he has designed cleats for Cliff Avril, Michael Bennett, Frank Clark and Russell Wilson.
Mohammed Gafar – Designer of Pete Carroll's shoes.
Gafar is the Maryland-based artist behind Head Coach Carroll's Custom Nike Monarchs, which showcases Washington-based nonprofit Choose 180. Gafar is a multi-medium artist and has focused on shoe customization for almost seven years. In addition to his work with My Cause My Cleats, Gafar has worked with companies like Under Armor, several NFL teams and players, and many NBA players.
Jalanda Marie – Creator of the Seahawks dance shoes
Marie is a Florida-based designer for Nordstrom and other private labels. After studying art and design at Parsons in New York, Marie moved to Nashville where she owned her own boutique and spent two seasons with the Tennessee Titans cheerleaders before joining the Seattle Sea Gals. She recently returned to South Florida where she enjoys sewing, painting and decorating.
Brad Torf – Blitz Shoe Designer
Torf is a Chicago-based artist who started designing shoes in 2012. From kids to adults, celebrities to athletes (and mascots), charities and fundraisers, Torf offers a diverse set of work.