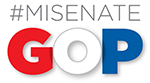 Horn legislation encourages job growth and better paying jobs
LANSING, Michigan – State Senator Ken Horn on Wednesday introduced legislation to encourage business leaders to invest and grow their businesses in Michigan.
"Since taking the helm of the Senate Committee on Economic Development and Small Business, my focus has been on creating good jobs, training a workforce for those jobs, and creating vibrant communities where settle and raise families, "said Horn, R-Frankenmuth. "I have spent a lot of time developing this new program which will help attract employers across the state while posing no financial threat to taxpayers.
Senate Bill 615 would create the Michigan Employment Opportunity Program. The program would provide financial support for the creation of new certified jobs through withholding tax on the income of those jobs. If a business does not create jobs, it will not receive any funding. The bill creates three levels of deductions based on the population of the community, as well as the number of jobs created and the average salary offered for newly created positions. It also describes the capture times.
JoAnn Crary, president of Saginaw Future Inc., praised the legislation, saying it makes resources available to help small communities develop as well.
"This incentive is key to attracting new, well-paying jobs to Michigan," Crary said. "It also includes a formula that allows small communities like Saginaw to use the incentive to support job creation."
Jeff Donofrio, President and CEO of Business Leaders for Michigan, approved.
"Michigan's ability to grow and compete for jobs, attract talent and deliver widely shared prosperity will depend on a strong economic development system," Donofrio said. "Senator Horn's bill will make Michigan a more competitive state and add even more to the economic development tools at our disposal. "
John J. Walsh, president and CEO of the Michigan Manufacturers Association, said the program would also help encourage companies to stay in Michigan.
"We appreciate Senator Horn's leadership in his efforts to attract businesses that will grow and create jobs in Michigan," Walsh said. "Other states are actively attracting Michigan businesses, but Michigan's new employment opportunities program would proactively encourage businesses to expand here in Michigan, thus keeping jobs and investment in the state. Big lakes. "
SB 615 was referred to the Senate Committee on Economic Development and Small Business for further consideration.
###