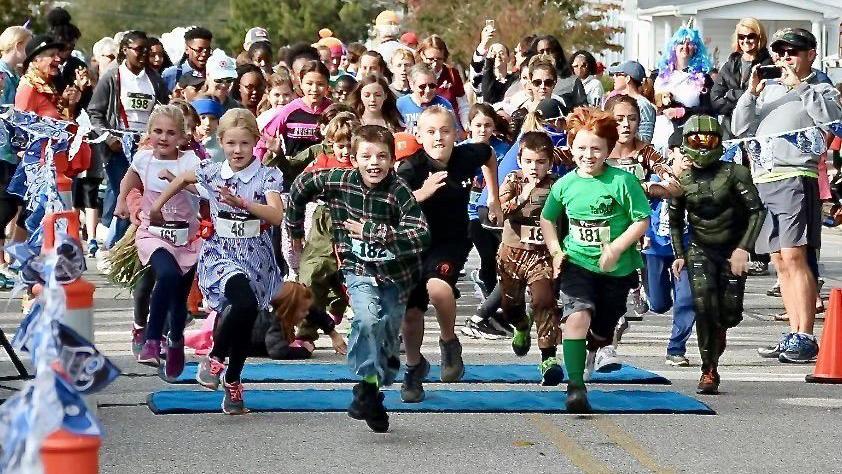 Edgecombe Cancer Support Foundation Faces Financial Crisis | Local News
The Edgecombe Cancer Support Foundation is at a financial crossroads as the organization nears its only fundraiser of the year, the hugely popular Run for Your Life.
This year's Run For Your Life 5K run and 1K walk will take place at 9 a.m. on October 30 and start and end at Tarboro Brewing Company at the corner of Main Street and St. John Street. . You can register online at https://ecsfrunforyourlife2021.eventbrite.com.
The Edgecombe Cancer Support Foundation is unique in that every dollar raised stays in Edgecombe County for the benefit of county residents undergoing cancer treatment. There are no administrative costs and no salaries.
Dr Mark Petruzziello said 2021 is key for the foundation.
"Something has to happen," he said. "We are short of funds and we need help this year. If we don't, we won't have any more funds … we won't have any more activities.
Petruzziello explained how the foundation came into being.
"In 2011, an ICU nurse (at Vidant Edgecombe Hospital) developed breast cancer and colleagues ended up organizing fundraisers to help pay her bills. I thought, 'this is crazy' because she was fully insured, "he said.
The first cash, in the amount of $ 150 in checks, was released in 2012.
Since that time, hundreds of thousands of dollars have been awarded to residents of Edgecombe County undergoing cancer treatment – $ 1,000 at a time.
There are three qualifiers for someone asking for help from the foundation:
They must be residents of Edgecombe County.
They must have cancer.
They must be actively treated.
Petruzziello said the ease of the application process could be the cause of some reluctance on the part of some companies to support the foundation.
"We don't make people jump through hoops," he said. "We're just trying to get them help as quickly as possible."
He mentioned Hospira's strong corporate support which was reduced to team sponsorships after Pfizer took over the company.
"I really think we are not making as many demands as some (companies) would like," he said. "But we have our rules and we make sure that the people we help meet our requirements. They have enough things to do, other than filling out several pages with applications. "
He said the foundation was willing to speak to anyone interested in becoming a sponsor as well as anyone interested in helping their neighbors in Edgecombe County.
"We are struggling to find companies that match their philosophy," he said. "It is difficult to get (corporate) money for our mission."
Petruzziello's wife Pat described the foundation as "neighbors helping their neighbors".
Over the past five years, money distributed to cancer patients has totaled approximately $ 245,000 while money raised has totaled approximately $ 165,000 and the closet is nearly empty.
The foundation holds its only fundraiser in the fall.
"We are doing ours in October so as not to compete with the running (Tarboro Community Outreach) in the spring," said Petruzziello.
The foundation's fundraiser is the only cancer event held in Edgecombe County where the money stays in the area and benefits local residents.
Pat Petruzziello spoke of teachers who collect money for Relay For Life and then try to donate the money to the foundation, mistakenly thinking that all the money is going to help locally.
In fact, money raised through Relay For Life and other similar activities leaves Edgecombe County and is used to help fund cancer research once salaries and benefits are paid into the community. staff.
"They don't even provide money for gasoline anymore," said Mark Petruzziello, adding that although the foundation is local and holds one fundraising event per year, Relay For Life is national and an effort to raise funds. 'a year.
"We need an educational effort so people know where their money is going and how it is being used," Pat said.
This year, a bra decoration event has been added to benefit the foundation.
For an entrance fee of $ 20, individuals, organizations and businesses can participate. The bras are to be decorated with a Halloween theme and will be on display at the Tarboro Brewing Company, where the vote will take place for the best decorated bra.